Bye asphalt, hello nature!
Wasn't it just a freeway?
Spontaneously release everything, just always down the street – or down from it. With the Dexter 4 × 4 you are always on the go. In any weather. You have to make a decision beforehand. Because there are two Dexter 4 × 4.
It starts with the Dexter 570 4 × 4. With its all-wheel drive, it masters every road and gravel track. While things get rough outside, there is a lot of comfort inside. Thanks to efficient insulation and powerful heating, it is also suitable for use all year round. For 365 days of pleasure.
Good cue for the Dexter 560 4 × 4. Because the compact four-wheel drive van is also a lot of fun. Can not be prevented with the robust all-wheel drive and the good equipment. And then there is a comfortable double bed and lots of storage space.
Dexter 570 4x4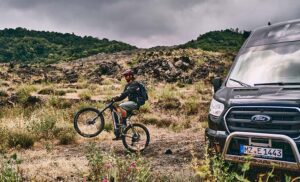 With the new Dexter 570 4 × 4 you can experience exactly what you want – how you want it and when you want it.
It is very flexible, knows almost no limits with its sequential all-wheel drive and thanks to the handy dimensions it is also easy to use in everyday life. In general, the Dexter is very practical. An optimal room layout provides a lot of space and it is used in the best possible way: well-equipped kitchen, washroom with shower, two comfortable single beds, a cozy, as if out of nowhere, modular seating group, a surprising amount of storage space in the rear.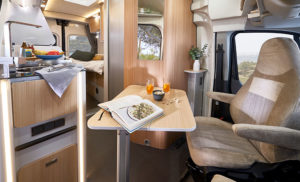 In addition, equipment that undoubtedly makes it a weatherproof all-season vehicle. The Dexter has everything you need. And on request even more, thanks to numerous customization options. Yes, the Dexter 570 4×4 is really serious – with your holiday fun.
Dexter 560 4x4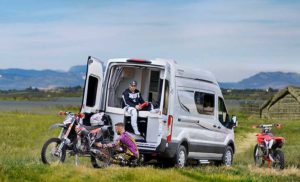 The Dexter 560 4 × 4 is in no way inferior to the new 570. On the contrary.
The compact vehicle has a large double bed in the rear. So relaxation is well taken care of, excitement too. Because the 560 can still drive where ordinary motorhomes already give in. Because, depending on the conditions, up to 100% of the driving force is delivered to the front or rear axle.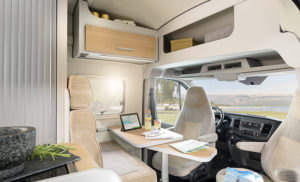 Gravel road, snow, muddy dirt roads – the Dexter can show what he's made of. And that's a lot. Because in addition to its intelligent all-wheel drive, the Dexter 560 4 × 4 offers plenty of comfort. Why there is still so much storage space – only our designers probably know that.
And they really thought of everything. Nice seating? Yes. Fold-out table extension? Sure. Winter performance? Yes. Sufficient trailer load? Check. And vacation fun? You will have guaranteed it.
Dexter 570 4x4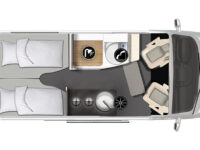 | | |
| --- | --- |
| Model: | Dexter |
| Basic vehicle: | Ford Transit |
| Base engine: | 130 HP engine |
| Technically permissible total weight (kg)*: | 3500 |
| Mass when ready to drive (kg)**: | 3154 |
| | |
| --- | --- |
| Bed variant: | Single beds |
| Total length (mm): | 5980 |
| Beds: | 2 |
| Seats: | 2 |
| Drive: | All Wheel Drive |
Price from :
64,050 €
(incl. VAT)
Dexter 560 4x4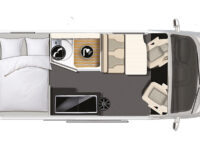 | | |
| --- | --- |
| Model: | Dexter |
| Basic vehicle: | Ford Transit |
| Base engine: | 130 HP engine |
| Technically permissible total weight (kg)*: | 3500 |
| Mass when ready to drive (kg)**: | 3162 |
| | |
| --- | --- |
| Bed variant: | Double bed |
| Total length (mm): | 5980 |
| Beds: | 2/3 |
| Seats: | 4 |
| Drive: | All Wheel Drive |
Price from :
64,050 €
(incl. VAT)