Danny: The Everyday-Motorhome!
Shopping in the morning, off to the mountains at noon and
somewhere else entirely in the evening.
Yes, that's how it can be if you have a motorhome that really makes anything possible. That's exactly what the new Danny is. A great travel companion, an oversized shopping cart, a mobile beach shelter with an open-air shower, a mobile sports centre, a ski hut on wheels and a comfortable place to catch your breath at the end of the day. There's not much time to sleep. But when there is, nothing is lacking.
Not even fresh air and sparkling stars thanks to the wonderful pop-up roof. Everything else is also quickly ready for the night. In the new Danny, the rear seat can be converted into a comfortable sofa bed in one easy step. This provides you with an additional double bed without requiring a millimetre of extra space during the day. Which is great, because it leaves more room for the lavish furnishings in the new Danny. And space for the whole family, mountain bikes, kitesurfing gear, etc.
So what could be better than a new Danny? Two new Dannys! So it's a good thing the motorhome is available in compact and ultra-compact models.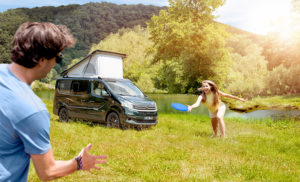 Our current Danny floor plans
Danny 490
| | |
| --- | --- |
| Basic motorisation: | 1,6 DCI 120 HP |
| Basic vehicle: | Fiat Talento |
| Technically permissible total weight*: | 2,940 kg |
| Mass when ready to drive (kg)**: | 2429 |
| Total length (mm): | 4990 |
| | |
| --- | --- |
| Bed variant: | Double bed |
| Beds: | 4 |
| Seats: | 4 |
| Fresh water capacity complete: | 55 l |
| Wastewater capacity: | 43 l |
Preis (Basis) :
42,490€
(inkl. MwSt.)
Danny 530
| | |
| --- | --- |
| Basic motorisation: | 1,6 DCI 120 HP |
| Basic vehicle: | Fiat Talento |
| Technically permissible total weight*: | 3,000 kg |
| Mass when ready to drive (kg)**: | 2511 |
| Total length (mm): | 5399 |
| | |
| --- | --- |
| Bed variant: | Double bed |
| Beds: | 4 |
| Seats: | 4 (5) |
| Fresh water capacity complete: | 68 l |
| Wastewater capacity: | 59 l |
Preis (Basis) :
44,990€
(inkl. MwSt.)